A session on 'cultural adjustment and preparing to return home' held at Sambram Institute on Sept 30th 2017.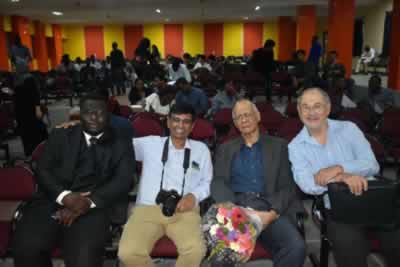 The session was divided into 2 parts. The first part entirely included creating awareness and knowledge about fitting in to the new cultural background and environment. This part of the session was specially aimed for 1st year freshers who were knew to Bangalore. Second part of the session was aimed mostly for the final year students who had already adjusted to the society but is preparing to go back to their own home land. This part of the session included raising awareness on what to expect and how to be ready to adjust when they return home after graduation.
The guests of the session were Mr Leiton Chinn and Mrs Lisa Chinn. The speaker of the session was Mrs Lisa Chinn who who had developed the only re-entry stimulation game 'Customs and Culture', holds a Bachelor of Science in Foreign Service from the University of Philippines and a Masters of arts in Communication from the Wheaton College of Illinois. She is a leadership coach and a certified cross culture trainer from SEITAR and Georgetown University who has also worked in the countries Philippines, USA, Canada, New Zealand, Australia, UK, Mexico, Netherlands, Poland, Singapore and India. Mrs. Lisa Chinn was a former international student in the United States. Moreover, she was also a campus worker, a world traveler, an author and a speaker at various college events and conferences. As an author, Mrs. Lisa Chinn has authored several books in the area of re-entry and transition which include 'among others' , 'think home' , 'back home' and 'coming to America – returning home to your country'.
Mr Leiton Chinn had been the editor of the NAFSA COMSEC newsletter, had attended Private Graduate School in the United States under an International Student Scholarship. Since 1981 he has recruited, trained and recognized hundreds of volunteers to be engaged in International Exchange. Mr. Leiton Chinn, who has given workshops at NAFSA both regionally and at the annual conferences, have convened two national conferences for people working with international students. Furthermore, he has also authored 2 major international NAFSA publications to international students to his credit, specifically in the area of student re-entry and professional integration.